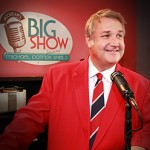 Michael Patrick has collaborated on titles with British golf broadcaster Ben Wright, real estate mogul Donald Trump, talk show host Larry King, and golf architect Arthur Hills. He authored "Golf's Short Game For Dummies", and his biography of Hall of Fame radio host J.P. McCarthy was a regional bestseller and sported dust jacket endorsements from Frank Sinatra Jr., Elmore Leonard and others. His book, "Secrets of the Great Golf Course Architects" featured his interviews with Jack Nicklaus, Arnold Palmer and more.
Shiels has written magazine articles for Celebrated Living, Travel + Leisure, Northwest Airlines World Traveler, Delta Vacations, AAA Michigan Living, PGA Tour.com, Golf Magazine, LA Times, Bermuda Royal Gazette, and various other international publications. He pens a Sunday print edition syndicated newspaper column read in various publications and on http://www.TravelTattler.com.
Shiels also hosts an award winning syndicated morning radio and television show in Michigan.
He is a member of the Society of American Travel Writers and the Golf Writers Association of America.
His most recent book, "Invite Yourself to the Party", featured a cover endorsement from CBS sportscaster Jim Nantz, a note from President George H.W. Bush, and supportive words from celebrities including Sparky Anderson, Brady Hoke, and more.
His award winning syndicated morning show airs on 14 radio stations and one Fox TV affiliate. He has been named "Network Radio Personality of the Year" by the Michigan Association of Broadcasters six times. Details, podcasts, plus the affiliate list are at http://www.MiBigShow.com.